Celebrity Silhouette is the fourth ship in the Celebrity Cruises fleet to undergo a refit, known as the Celebrity Revolution, but what can guests expect in the on-board restaurants? Vicky Mayer reports from a UK cruise.
Celebrity Silhouette usually carries up to 2,886 passengers but because Covid restrictions are still in place during my cruise, capacity is capped at 1,000. Pre cruise, I was worried that this might make the atmosphere on board at bit subdued, but on the contrary, everyone is keen to make up for lost time so busy dinners are followed by late night drinks and fun nights out at the theatre.
I'm keen to work my way around the ship – particularly to the dining areas – and here the Celebrity app is very helpful, assisting with navigation around the ship, booking speciality restaurants and seeing what entertainment is on each day.
Speciality dining on Celebrity Silhouette
Equally handy is Celebrity's new Always Included package. Essentially, it gives guests an all-inclusive cruise that includes food, classic drinks, wifi and tips in the price of the ticket.
The Always Included package has been a real hit with guests who like its simplicity. On my trip I enjoy complimentary breakfast and lunch at the Oceanview Cafe, where the buffet is still in full swing but guests are served expertly by the staff. In fact, service here is so good that one very patient waitress manages to find me a pot of marmite.
Guests can also eat lunch and dinner for free at the spacious Grand Cuvee restaurant on decks 3 and 4, where the enormous menu that changes daily offers a great choice. The Caesar salad is fantastic and I enjoy some great fish dishes here, too.
As for the speciality restaurants – Tuscan Grille, Blu, Murano, Sushi on Five, Le Petit Chef at Qsine or The Porch – guests should make a reservation for a special night out. The extra cost of between $20 and $50 per person is worth it and my personal favourite is the stunning Blu, with its healthier menu and jaw-dropping ocean views.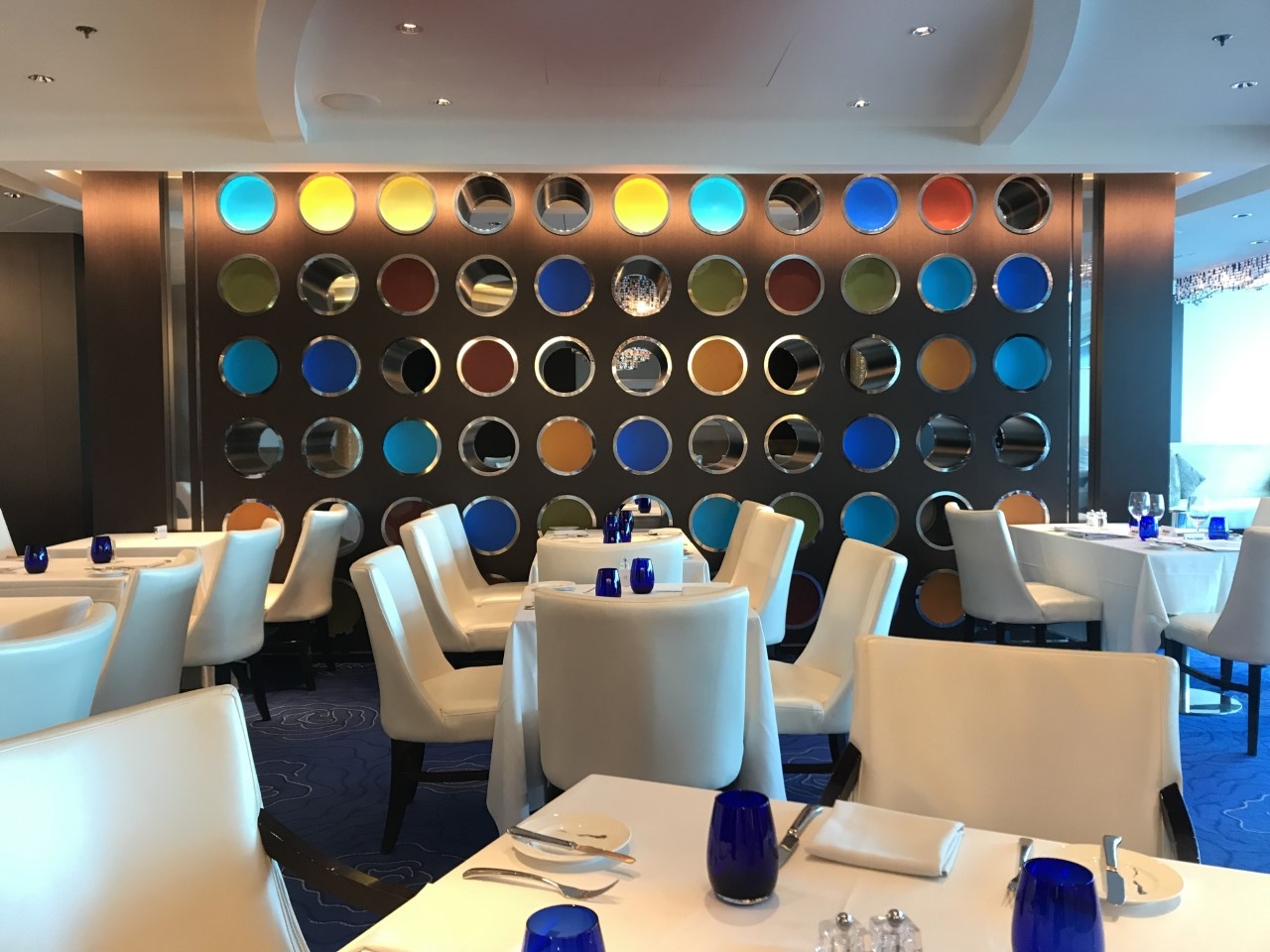 Then there's the Martini Bar, a beautifully decorated venue that boasts powdered ice to keep drinks super cool. It's fun and smart at the same time. The bartenders really know how to mix a cocktail here and the giant white sofas lend themselves to meeting up with friends.