In the next instalment of the CTN Investigates series, Cruise Trade News examines the potential for hydrogen to shake up the fuel mix in the sector. Gary Peters reports.
It was back in July last year when MSC Group revealed its latest project. The idea this time was a partnership with shipbuilder Fincantieri and energy infrastructure company Snam to carry out a study to assess the feasibility of designing and building the world's first ocean-going hydrogen-powered cruise ship.
At the time, the companies outlined how over the coming 12 months they would look at "key factors related to the development" of such a vessel, including the need to accommodate hydrogen technologies and fuel cells on board.
Among all the sustainability announcements of recent months and years, this was big news.
An organisation, with the size and power of MSC, aligning itself behind what many view as not just a viable route, but also an imperative one if cruise is going to lower emissions to the levels it desires.
With the backing of Fincantieri and Snam, there is genuine hope that, almost a year on, this could be the first step along what is likely to be a bumpy, winding road.
As MSC Cruises senior vice-president of cost optimisation and process improvement Michele Francioni explains: "The decisions we make now for technologies and fuels for future vessels need to be the right ones so it's important that we engage as widely as possible to support technology development. We cannot just sit back and wait for something to happen."
This view is backed by Frank Wolak, who is president & CEO of the Fuel Cell & Hydrogen Energy Association. He says that for cruise, "hydrogen and fuel cells provide an opportunity to power both propulsion and auxiliary activities simultaneously, while reducing local air and noise pollution, both on board and off-board at the port of call".
He adds: "Hydrogen fuel cells provide the cruise industry with an opportunity for zero-emission travels. In addition, fuel cells operate quietly without moving parts, reducing both noise and the need for maintenance."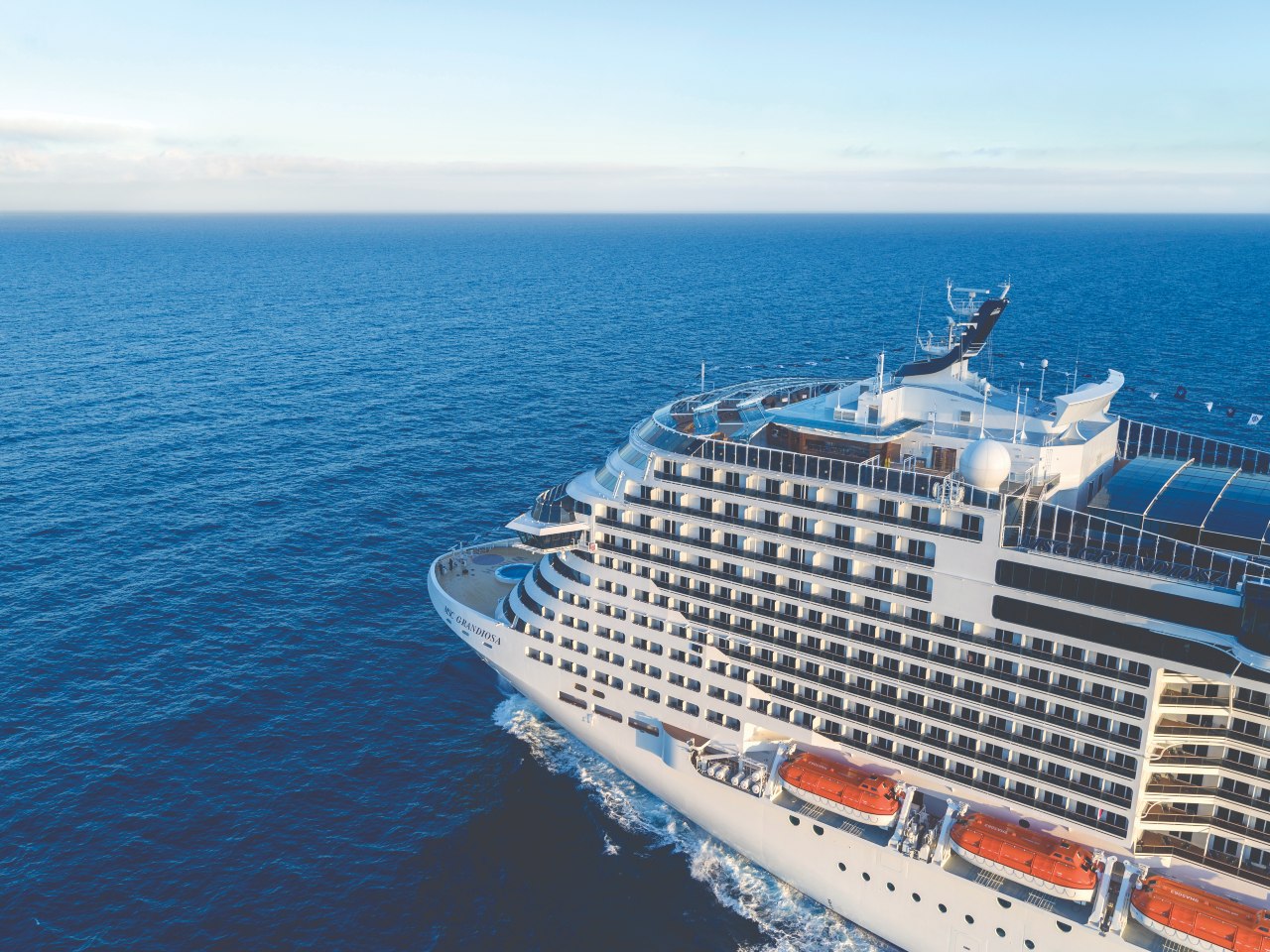 The hydrogen dream
On a global scale, in November 2021 the Hydrogen Council released a Hydrogen for Net Zero report claiming that, alongside electrification, a hydrogen economy was crucial for future emission reductions and meeting global targets.
Hydrogen Council executive director Daryl Wilson said in a statement at the time: "Put simply – there is no climate solution without hydrogen."
It is for these benefits, and as Wolak describes, that lines are keen to get on board the hydrogen bandwagon. One such operator is Northern Xplorer, described by its CEO Rolf A Sandvik as a "cruise company in the making", which intends to cruise in Norway.
The company, which is working with ABB, has a highly ambitious plan to launch 14 ships, with the first intended to be operational from 2024/2025.
"Hydrogen-powered fuel cells are widely considered to be one of the most promising solutions for reducing harmful pollutants," says ABB vice-president of marine market development Jorulf Nergard.
Another hydrogen fan is Havila Voyages. The operator, which has recently launched its first ship, has not been afraid to shout about its environmental performance and use of battery hybrid power to reduce emissions.
It confirmed to CTN that its ships have been designed in such a way to enable them to be converted to use hydrogen in the future.
As the line's UK country manager Matthew Valentine says, however, it is not without its challenges: "Electromechanically, panel-wise – our vessels are arranged for a conversion to use other types of fuel. If we change to hydrogen, we must install new tanks, as today's LNG tanks cannot be used for hydrogen.
"The hybrid system is integral to operation of our ships, and we will therefore still need to use battery power. We can convert because the propulsion of our ships comes from electric motors that are powered from the batteries, [which are] in turn charged from the engines, therefore making it easier to switch over fuel type."
Over at luxury line Silversea, construction started late last year on Silver Nova, the first ship in Project Evolution, which will feature a hybrid mix, including fuel cells, and is due to launch in summer 2023.
As for MSC, "the project is well underway and we're looking at two main aspects", says Francioni. "[These are] the new technologies for the conversion of hydrogen into electricity on board a vessel and what the supply chain might have to look like."
Turning hydrogen projects into reality
One thing many of these plans have in common is just that – they are plans,  not physical ships sailing on the high seas at this very moment.
The roadblocks, experts suggest, are centred on supply, not technology. Wolak explains: "The two primary challenges to making hydrogen power more widely available today are the cost of clean hydrogen production and the availability of hydrogen distribution and fuelling infrastructure.
"An approach to overcome the infrastructure and supply network challenges comes through building out hubs, where multiple users of hydrogen can utilise the same fuelling locations and infrastructure to pool demand.
"One promising location for these hubs is ports, where port operations logistics vehicles and water-going vessels can both build hydrogen demand."
Francioni believes the "right policy decisions" are imperative to "encourage investment in building the infrastructure for the level of scaling up that is required".
"We need to transition from hydrogen that is derived from oil or gas to what is referred to as green hydrogen, which can be provided for with no associated carbon emissions," he continues. "Unfortunately, there is relatively little green hydrogen currently available in the marketplace."
Another hitch, according to Francioni is that "most of the current hydrogen related projects are associated with compressed hydrogen, which is a relatively easy solution for small-energy demand industries, such as the automotive sector".
Dina Lanzi, head of H2 technology development at Snam, highlights how hydrogen is "a solution we are working on", adding: "What we are doing with our partners is trying to match these ambitions to a place where you can start to bunker hydrogen and you can start testing the first vessels.[It's the] chicken and egg [scenario], so, you need to collaborate and to have a common roadmap to test the fuel and then it can be extended."
Hydrogen ships in operation
Despite these challenges, as mentioned previously, in just a couple of years Northern Xplorer is planning to have its first ship up and running.
Sandvik says: "By 2024-2025, there will be an increasing number of ships using hydrogen for propulsion, and the first Northern Xplorer ship is scheduled to be in operation at this time.
"[But] hydrogen is not a silver bullet solution to the future fuel question, unfortunately. The majority of the cruise sector operates much larger vessels than what we are planning."
That statement shows that wide-scale use of hydrogen in cruise is still some way off, but as ABB's Nergard says: "There are studies and pilots considering hydrogen energy in various forms – compressed hydrogen, liquid hydrogen, hydrogen as ammonia, hydrogen as methanol.
"It is likely that two or three of these will become the standard form of future green fuel."
Francioni also takes a long-term view: "There's a lot of work to do but I'd like to think that by 2030 or so there might be an ocean cruise ship powered by alternative fuel such as hydrogen. We need to continue to collaborate, to be ambitious and to be positive to make this happen."
There's plenty of hope for hydrogen.
Illustration: Phil Couzens