The return of limited cruise operations is, naturally, a cause for celebration. However, as ships once again take to the open waters, how can the industry make good on its promise to improve environmental performance? Gary Peters investigates.
Looking for any positive in the last 18 or so months is the true definition of searching for a needle in a haystack. The grim, fatal reality of Covid and the economic hardship the pandemic has wrought have dominated headlines.
However, one beneficiary of life in lockdown has been the natural environment. As cars lay up in garages and planes on tarmac, the environment had what can be classed as its first 'mini break' from the never-ending push of modern life. People have moved less, travelled less, and as such, their carbon footprint dropped. In many quarters, people's appreciation for the natural world has also increased – that walk in the park has become far more meaningful.
The Global Carbon Project stated in December last year that 2020 saw carbon emissions decline by 2.4 billion tonnes, while the European Environment Agency reported in a briefing in November that "one of the most evident short-term effects of Covid-19 lockdowns has been the dramatic improvement in air quality, especially in some of the world's most polluted cities".
While it's stretching the truth to state that Covid has reversed the effects climate change in any way, it has given time to reflect on how industries can play their part and rebuild in a sustainable way. To borrow a phrase from a prominent politician, it's time to 'build back better', and that includes in the travel sector.
Getting to work
Dr Dirk Glaesser is the director of sustainable development of tourism at the UNWTO. He says that "at a time when the world is facing an interlinked crisis of health, climate and biodiversity, it is crucial that tourism plays a key role in achieving true sustainability for people and planet".
"The pandemic has shifted the focus of global tourism to resilience, sustainability and the interconnectedness among diverse stakeholders in the sector," he adds. "There has been a large shift observed in the tourism sector and a strong agreement to transform tourism."
In recent years, progress has been made on reducing waste and cutting the use of plastics in the cruise sector. However, there is the continued argument that more needs to be done to improve sustainability and offset the industry's impact on the environment.
Over the past year or so, one example of innovation in sustainable cruising is the launch of Havila Voyages. The line – which will start operations on its first two ships, Havila Capella and Havila Castor, in August – has claimed that its ships will be some of the most environmentally friendly in the sector thanks to the use of battery packs.
But just how exactly will the batteries improve performance? The line's project director for newbuilds Kjell Rabben says: "There are no emissions when the ships are run on battery power so if we charge them with electricity from completely clean hydropower generated on shore, we can travel emission-free.
"Our ships can sail up to four hours at a time on battery power. We therefore plan to use the technology when sailing in the World Heritage fjords and also possibly when sailing in and out of ports. This will reduce our total emissions by around 40 per cent. The battery packs will work in the same way as those in an electric car."
A couple of years back, Hurtigruten made waves with its hybrid electric–powered ships, claiming to reduce CO2 emissions by more than 20 per cent compared to other ships of the same size, and in May this year, Hurtigruten Norwegian Coastal Express, a sister company to Hurtigruten Expeditions, said it will upgrade its seven ships to cut CO2 emissions by 25 per cent and NOx emissions by 80 per cent.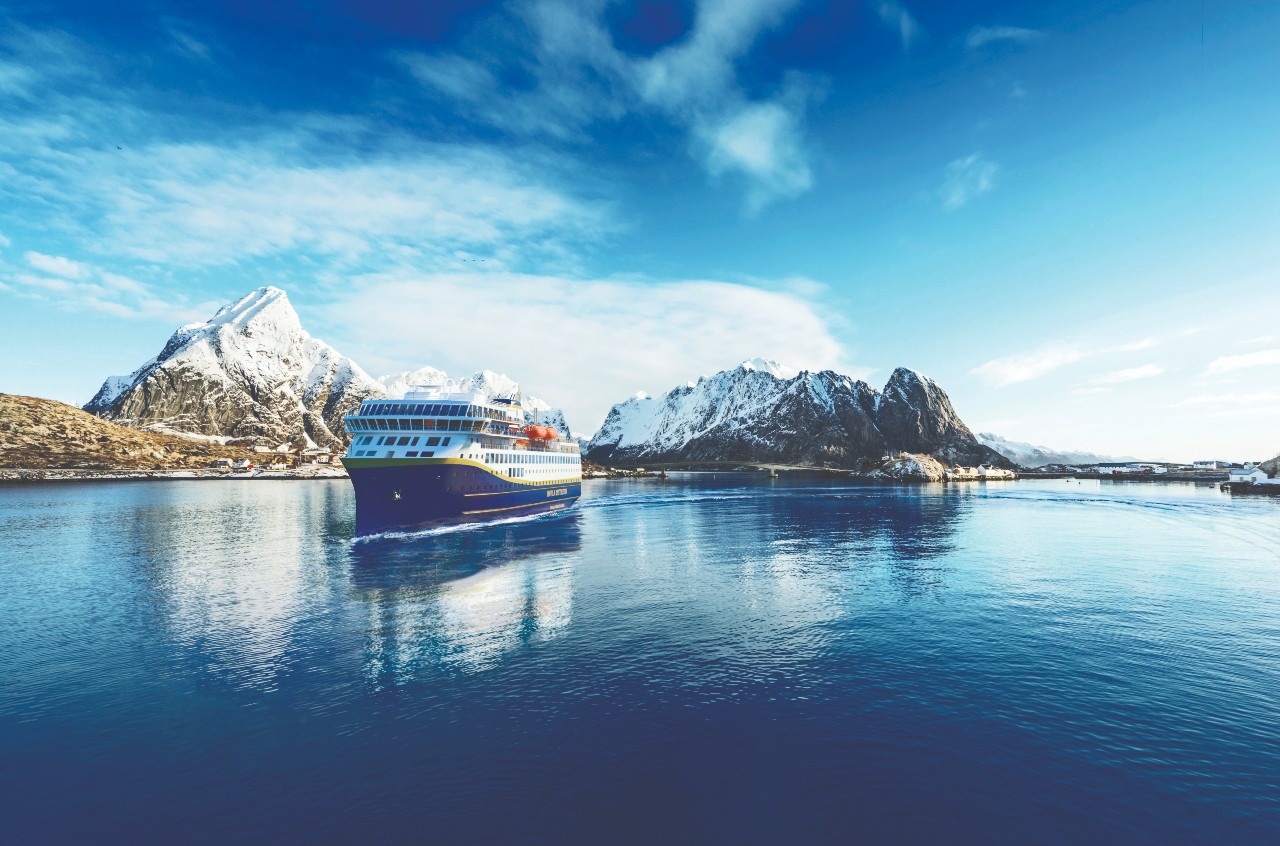 Reputation matters
One key driver for such innovation is reputation. Businesses know that in the modern age, those who sit on the sidelines and carry on with the old normal will soon be left behind – technologically and commercially – by those who bite the bullet and invest in developing cleaner operations.
Havila UK country manager Matthew Valentine adds that cruise clients "are becoming much more aware of their environmental responsibilities and how the choices they make can have an impact on the wider world". He continues: "Some customers will be more engaged than others, but we all have a role to play, and it is important that travel agents understand and engage in this discussion with their clients."
This view is backed by Linden Coppell, director of sustainability at MSC Cruises, who says the line is seeing evidence that "holidaymakers and societies at large are more interested than ever in climate change and what industrial sectors do to mitigate their impact".
These are warm words, but what do the figures say? CLIA's 2021 State of the Industry report claims that the sector as a whole is investing heavily in new technology and cleaner fuels – as much as $23.5 billion – to support a commitment to reduce carbon emissions by 40 per cent by 2030 compared to 2008.
According to CLIA, 49 per cent of new-build capacity on order will rely on liquefied natural gas (LNG) fuel for primary propulsion, while 58 per cent of new ships have committed to using shore-side electricity.
For example, P&O Cruises' new ship, Iona, described by the line as "Britain's largest and most environmentally friendly cruise ship", will be powered by LNG, while Carnival Cruise Line's Mardi Gras and Carnival Celebration will also make use of the fuel.
"While we may only be a small part of the tourism sector, the cruise industry wants to play a big part in helping to preserve the heritage and environment of the world's favourite destinations," says CLIA UK & Ireland director Andy Harmer.
"Cruise travellers care about the environment and there are many examples that agents can offer to showcase the environmental performance of cruising. Some ships can repurpose 100 per cent of waste generated aboard – removing, reusing, recycling and converting waste to energy."
From a UK perspective, shore-side electricity is in the spotlight more than ever before. The new Horizon Cruise Terminal at the Port of Southampton, developed in partnership with MSC Cruises and Norwegian Cruise Line, has roof-mounted solar power and shore power connectivity installed to boost sustainability.
Team effort
While the advances in technology are welcomed across the industry, the sector can only do so much without extensive collaboration with destinations and the local communities, and indeed external companies not directly involved in cruise.
CLIA has partnered with the Global Sustainable Tourism Council (GSTC) to "help port cities analyse how to manage tourism flows and map out the future of sustainable tourism", says Harmer, who highlights work the association has done with Dubrovnik – a very popular cruise destination – to create a destination assessment for the city, conducted by GSTC.
Harmer adds: "CLIA and GSTC are teaming up with the cities and ports of Corfu and Heraklion in Greece. The partnership aims to develop destination assessments that will help the municipalities understand how to capture the social and economic benefits of tourism for residents while safeguarding the long-term sustainability of these popular Greek destinations."
MSC's Coppell believes the biggest challenge for some destinations is "usually referred to as unmanaged tourism", which has been deemed a significant threat. Coppell says that cruise "recognises the need to support efforts to address the challenge" and highlights how MSC requires the tour operators it works with to "pre-purchase tickets with specific visiting hours so as to reduce waiting times and queues at the most popular sites, which in turn allows better visitor flow".
MSC says that in 2019, approximately 10 per cent of its excursions were with tour operators certified to GSTC standards, which include two sets of criteria, one for destinations, and one for hotels and tour operators. The line's aim "as more of our ships return to sea is that all tour operators used by MSC Cruises at our frequent destinations will be certified to a GSTC certification programme", adds Coppell.
Never-ending battle
As the lengthy debate around cruise ships docking in Venice shows, sustainability is not an issue that is ever likely to fade into the background. It will be a long, hard slog for the cruise sector to shake off its 'dirty' image – as Coppell says, "shipping is recognised as a 'hard to abate' sector in finding solutions for decarbonisation".
The scale of the challenge is also not lost on those at the heart of the action. Harmer says: "Making alternative marine fuels available at scale will require a massive investment in research and development and infrastructure across the entire value chain.
"Energy efficiency offers part of [a] solution, as it decreases fuel consumption, which reduces emissions footprints and supports innovation. However, the key is in developing new, alternative fuels that can be made available at scale. The challenges with [the] development of clean marine fuels cannot be overstated but should not be insurmountable."
As for clients, a survey by Mundy Cruising late last year found that 69 per cent stated that the development of zero-emission ships is either fairly likely or very likely by 2050. The sustainability challenge is on.