The cruise sector has innovated across many areas in recent years, but how does it fare when it comes to providing an accessible experience for all? Lucy Abbott investigates.
Jon Fletcher has been cruising since he was 14, with his first experience being on a school trip on SS Uganda. Now aged 60, and with many years working as a travel agent under his belt, Fletcher has been lucky enough to spend a large chunk of his working life either travelling by sea or helping to organise holidays for his clients.
What's more, Fletcher – who has spina bifida – is a wheelchair user and thinks that cruises are among the most accessible holidays for anyone with a disability.
"I have a canine partner assistance dog called Georgia and one of the things I love is that we can travel together and share the experience," he tells CTN.
"She absolutely loves sailing and is quite the socialite. Next year I am planning to sail America's East Coast and see for myself the beauty of a New England and Canadian fall and spend a bit of time in one of my favourite cities, New York."
According to Scope, a disability charity, there are 14.1 million disabled people in the UK. However, in 2019, disabled adults in England made 26 per cent fewer trips than those without a disability, figures from the Department for Transport's Transport: Disability and Accessibility Statistics report show.
To help change this, Fletcher has launched a new venture – the Wheelie Good Travel Company – to put "fun, excitement and adventure" back at the forefront of cruising for disabled passengers. So, what is the current state of play?
Dedicated support
While it's universally accepted that cruises are a great way to travel for those with some form of disability, "the approach to disabilities on board is inconsistent", disability blogger Zoë Escudier-Davies explains. Escudier-Davies runs the Cruising Wheelchair blog, which has more than 9,000 followers on Instagram.
Many cruise lines, such as Holland America Line, ensure that guests fill out a form detailing the specifics of their disability before boarding, so the correct adaptations can be provided to the ship in order to prepare. The cruise line explained to CTN this is so they can "be sure we have a full understanding of their needs so they can enjoy the cruise".
A Maritime and Coastguard Agency disabled passenger satisfaction survey from 2019 showed that "on average, 55 per cent of disabled passengers who travelled on a cruise and/or ferry in 2019 were either very satisfied or satisfied", demonstrating a favourable score, while highlighting there is room for improvement.
Cruise lines such as Marella Cruises are actively looking for ways to improve awareness of accessibility on board, with a Marella spokesperson telling CTN: "Most of our ships are accessible and we'll do everything we can to support our customers.
"We have a dedicated special assistance team on hand to offer advice and answer questions. We are working with AccessAble to ensure any current of future guests are as fully informed as possible in regards to the facilities on board the Marella fleet."
When approached for comment, CLIA stated: "Cruising is accessible as it's affordable and easy to plan with travel options and experiences that appeal to a broad range of budgets, interests, and abilities.
"It's experiential as it offers more choices in activities and destinations that can be experienced in a single trip than any other type of holiday travel – attracting diverse travellers. And it's transformational as cruising provides opportunities for personal growth and greater understanding of the world by connecting people and cultures."
Changes on cruise ships
Digging deeper, how do lines adapt ships and the cabins? Holland America Line explains that its ships "have computers with ADA requirements and listening, light, tactile technology"
The line added: "We have a formal process to ensure all guests will have proper access to enjoy all cruises. It is also a commitment from Holland America Line that all our guests receive the same service, dining amenities and experience to be able to enjoy their cruise to the utmost."
Elsewhere, Fred Olsen Cruise Lines director of product and customer services Clare Ward explains: "Some [cabins] have more space for those who need to use their wheelchair in their cabin, and we have some that are wheelchair accessible for those who need the use of a wheelchair or scooter when out and about or exploring the ship, but not so much while in their room.
"We also have a number of cabins with adapted bathrooms or wet rooms. These cabins are available in a range of grades, from Premier and Balcony Suites to interior cabins.
"In our theatres we have hearing loops and reserved seating areas for guests using wheelchairs, but when it comes to programming our entertainment team works hard to create an inclusive schedule of events on all of our cruises."
Disability blogger Caroline Bathurst – who runs the Cazbarr website and has arthrogryposis and scoliosis – states that some changes do not go far enough, both inside and outside of the cabin.
"Not all disabled toilets are practical. I was on a ship where the emergency assistance alarm button was too high, so if you fell to the floor, you have no way of reaching it," she says.
Changes to on-board areas typically vary by line and ship, with Jon Fletcher saying that "in many cases, the biggest challenges are easily rectified, [with] many of the newer ships [being] extremely accessible".
He adds: "For example, on Virgin Voyages, they have ensured that all their amazing restaurants are easily accessible for anyone in a wheelchair. Norwegian Cruise Line and Celebrity Cruises have put a part of the bar in many of their venues at wheelchair height."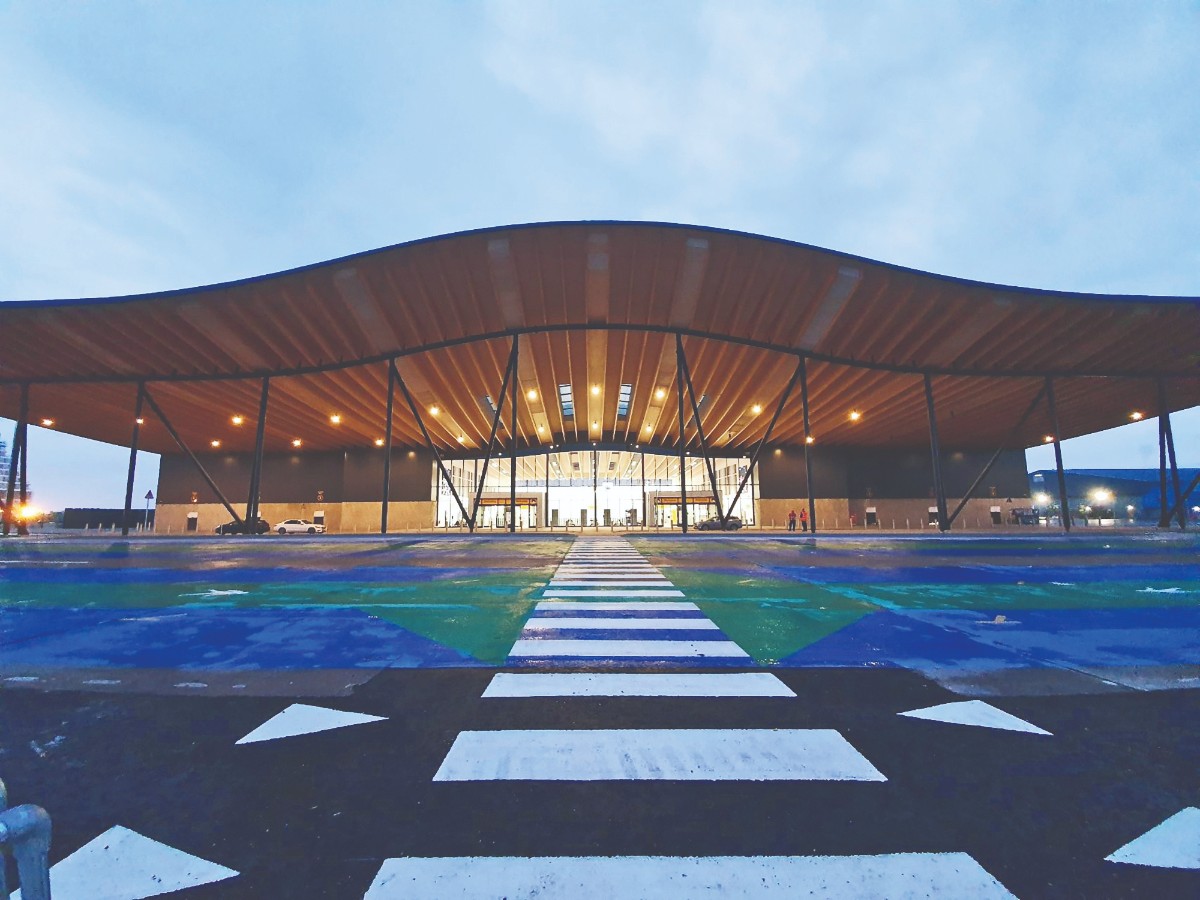 Improving cruise port access
For disabled cruisers, accessibility is vital from the moment they reach their starting port. Bathurst explains that "as a full-time wheelchair user, I try to get cruises leaving and arriving from Southampton. This way, no flying is involved for me and my chair. Getting on and off the ship is so easy for a wheelchair user compared to getting on and off a plane."
To ensure that disabled guests can access their cruise ship safely, the Port of Southampton's new cruise terminal, Horizon, has been specially designed to ensure that it is accessible for every type of mobility.
ABP Head of Cruise Rebekah Keeler explains that the terminal features "tactile paving, talking escalators, ramps, lifts, dropped kerbs, rumbled strips and accessible signage" throughout.
Excursions and port access are a huge part of cruising, with Bathurst saying it is what she loves most about cruising the most: "I love the fact I am in one place and can visit many different countries."
Some lines offer alternative activities for disabled guests to take advantage of when the ship is emptier if port access does not allow them to disembark. P&O Cruises tells CTN it offers "a range of activities designed to accommodate the needs of guests with reduced mobility or who are wheelchair users".
Yet for some disabled cruisers, being unable to disembark is not an issue. Fletcher says: "Yes there may be ports I cannot get off but there is even an advantage to that, because while everybody else is off the ship I can enjoy a spa day at a discount or enjoy lunch is a speciality restaurant at a fraction of the cost of a sea day.
"What appeals to me about cruising – particularly on the newer ships – is the sheer variety of places to eat and drink, to enjoy entertainment and to meet new friends and even be pampered and spoilt rotten."
The best way to see the world
As regular cruisers know, the staff on board the ship can make or break the cruising experience. While disabled cruisers often have an able-bodied companion on board, if needed, staff on board also play a part in assisting those passengers. Lines such as Holland America Line, Marella Cruises and P&O offer an assigned member of staff to a disabled passenger.
There's also a financial aspect to ensuring ships are as accessible as possible, with disabled people in the UK forming a large part of the economy, with an annual spending power of £274 billion, according to analysis from Scope.
As for the future, the provisions that cruise lines have in place for disabled cruisers are constantly improving, with newer ships tending to be the most accessible, as Fletcher explains: "Cruises are probably among the most accessible holidays anybody with a disability, whether it is visible or less visible, can take."
As for Fletcher and the Wheelie Good Travel Company: "Success for me is not just about numbers or bums on seats, it is about the quality of the experience that the disabled traveller enjoys.
"For me success will come when travellers regularly tell me, 'I achieved that dream and I thought I would never do that'. It will be about sharing our travellers' passion – that is the way we will become the byword for accessible travel and the leader in the sector."
All in all, as Escudier-Davies says, "cruising is the best way to see the world".
Illustration: Phil Couzens