Ambassador Cruise Line officially welcomed its first ship Ambience during a glitzy ceremony at London Tilbury on 19 April. Cruise Trade News was there to witness its arrival. Words by Vicky Mayer.
My first impression of Ambience, the first ship from new British cruise company Ambassador Cruise Line, is overwhelmingly one of space.
The launch of this eagerly awaited ship had to be put back by two weeks because of a lack of fuel – as the cruise line's CEO Christian Verhounig says: "Some you win, some you lose,"
However, this delay did nothing to diminish the appetite of both guests and invited travel agents and trade media, as the ship opened its doors for the first time for a renaming ceremony with its godmother and Olympic gold medallist Sally Gunnell.
As a mid-size ocean ship, Ambience is designed to carry up to 1,400 guests in 798 cabins and offers a choice of five different restaurants and two cafes, plus nine lounges, a swimming pool, gym and a spa.
When the ship made its debut in 1991 it was called Regal Princess and her godmother was the then prime minister Margaret Thatcher. The ship subsequently joined the P&O Australia fleet, sailing as Pacific Dawn, meaning now is its third incarnation and – Ambassador Cruise Line hopes – its best yet.
Wooden decks, the enormous Observatory Bar at the front of the ship on deck 14 and an old-school funnel give it a lovely iconic feel and the size of the cabins on a cost-conscious line like this is almost unheard of.
Ambience changed from top to bottom
The common areas – such as the three-deck Centre Court atrium, Botanical Lounge on deck seven, fun British pub the Purple Turtle and the Buckingham Restaurant  – feel fresh and new.
The Borough Market buffet bar on deck 12 is also a revelation – designed so guests don't feel like they are sitting in a school hall – offering some great lunch choices including the Asian-inspired Points East counter and British favourite chip stall 'Salt & Vinegar'.
The cabins aren't as modern as the main areas of the ship but what they lack in fancy décor, they make up for in sheer size with generous balconies. There are also plenty of staff on attendance in the corridors.
Another plus is that plugs in the cabins are British and guests can make their own tea and coffee.
As for the cuisine, there are three speciality restaurants on board – Saffron, an Indian curry house, Sea & Grass, a surf and turf restaurant noted for its prime cut steaks, and Chef's Table, a VIP multi-course dining experience specially created and hosted by the executive chef.
Charges apply for these eateries with prices starting from £14.95pp at Saffron through to £24.95pp at Sea & Grass.
Guests can also buy a drinks package, starting at £79pp for a three-night cruise. However, the on-board prices are very reasonable – with a pint of beer at £4, a small glass of house wine at £3 and cocktails at £5.
In keeping with Ambassador's British heritage, Olympic star Sally Gunnell was on board to rename the ship. She told those in attendance how cruising was one of her passions and left everyone in no doubt what an honour it is for her to be Ambience's godmother.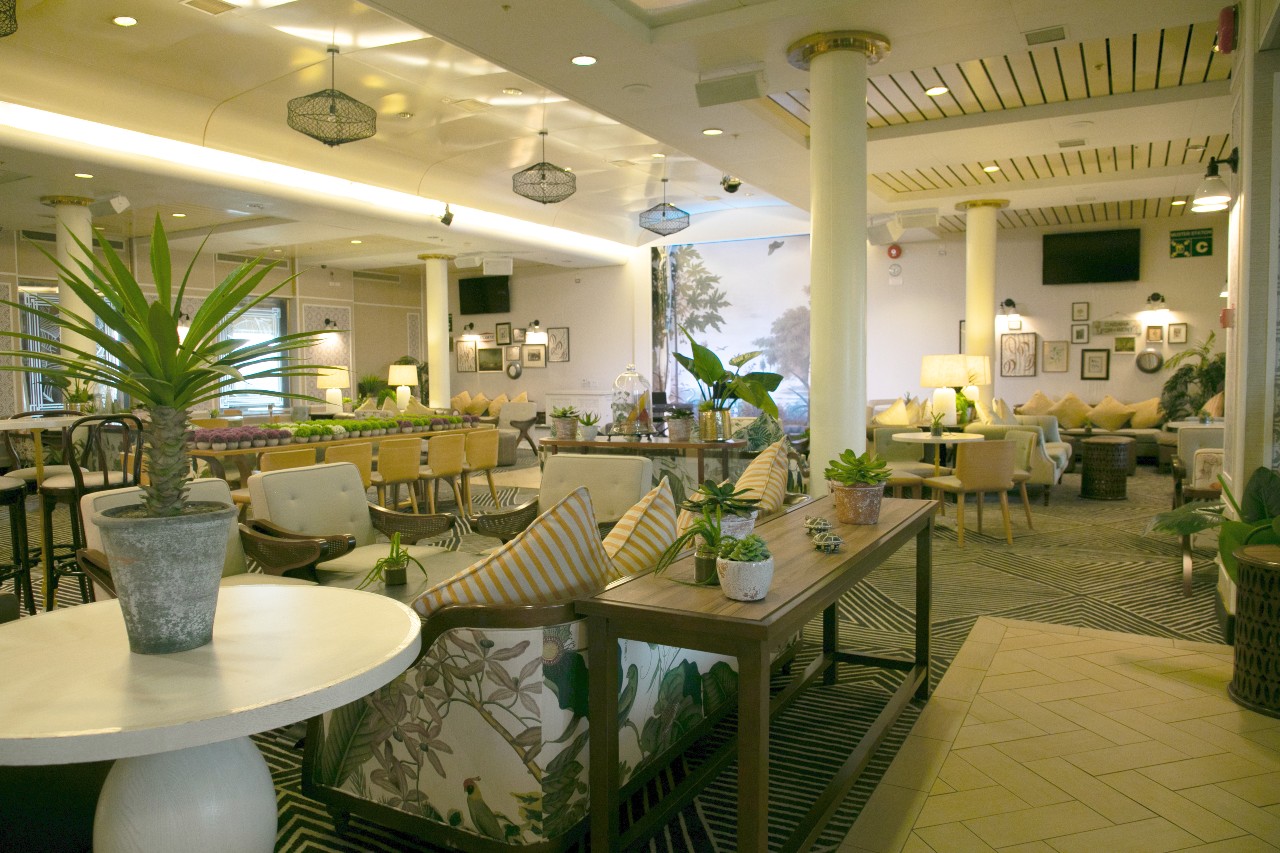 Can Ambassador Cruise Line thrive?
A question for many is, can this new British cruise line carve out its own niche in what is an increasingly crowded market? Judging by what was on offer in Tilbury, the early indication is a resounding yes.
Speaking to guests on board, they really appreciated the effort that Ambassador Cruise Line has made to update and refresh Ambience.
Everywhere on board, there is the line's signature purple colour, as well as plenty of happy customers discovering the joys of a friendly, well-run line whose fares, in these cash-strapped times, won't break the bank.
Many of the company's staff, including Verhounig, have worked in the sector for many years and therefore have a wealth of knowledge to tap into.
Ambassador Cruise Line deserves a pat on the back for launching its first ship in a tough market. But it doesn't stop there.
The line's second ship, Ambition, is set to arrive in 2023, and there's a strong possibility more will follow over the coming years.