Cruise Trade News editor Gary Peters reports from on board MSC Virtuosa, as he joins MSC Cruises for a four-night domestic cruise.
Well, what an experience it has been so far. It's just under 24 hours since I boarded MSC Virtuosa and I must say, my first feeling as I stepped onto the ship was one of relief more than anything else.
In the days leading up to the cruise, my mind had been working overtime worrying about the necessary documentation – evidence of a negative lateral flow test taken within 72 hours of departure; cruise ticket with health questionnaire completed, and – the one that seemed to be causing the most confusion among fellow guests and I – evidence of travel insurance with Covid-19 cover.
This is the critical thing to remember. Check, check and check again that it lists Covid-19 cover as part of the policy. Without it, no cruise.
Despite all the pre-cruise nerves and panic, I had no need to worry. I breezed through the initial part of embarkation and document checks, left my luggage with port staff, did the usual security checks and then waited patiently for my on-site lateral flow test. Negative – hurrah. After a short time in the waiting area, it was time to get this show on the road.
Back on the open sea
It's all oddly familiar being back on board. No doubt this is thanks to a very welcome reunion with some cruise friends. All those I have spoken to so far have reported similar feelings – after so long away it feels surreal to be on a ship, yet also like we've never been away.
It's been encouraging to see so many families and younger people cruising. With just 1,000 passengers on because of current restrictions, MSC Virtuosa does feel empty, but there's still a buzz and seeing kids exploring – and parents amazed at the choice on offer – is great to witness.
It's also been very easy to adjust to the new health and safety protocols in place. Masks are on while walking around the ship but can be removed when sitting down for food and drink.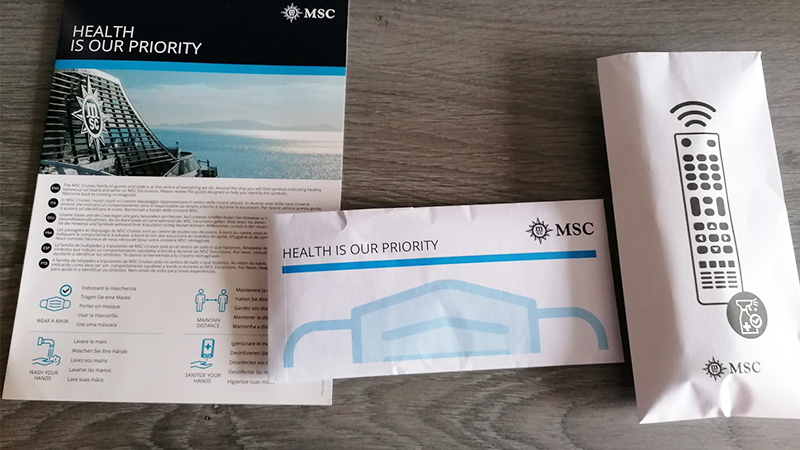 Social distancing is not an issue – the reduced capacity helping with that – and hand sanitiser is available throughout the ship. Even the TV remote in the cabin comes in its own envelope.
Emotions are running high everywhere on the ship. For all concerned – from terminal staff to the crew on board to MSC Cruises head office staff – this is the greatest feeling imaginable.
As MSC UK & Ireland MD Antonio Paradiso says: "This is a historic moment for the UK cruise sector. We have been overwhelmed with support. We all know what we've been through, [but] now it's time to start enjoying cruising again."
Cruise is back.