About Silver Spirit
The all-new Silver Spirit has never looked better, nor felt cosier. Fully refurbished for a superlative onboard adventure, she retains our world famous standards of service and home away from home feel.
With one of the highest space to guest ratios in the business and eight superlative luxury dining options, Silver Spirit offers its guests one of the most complete cruise experiences available. Spacious decks leave plenty of room for relaxation, yet the cosy niches make sure that there is something for everyone. Meet like-minded friends; enjoy first class dining and relax in what is possibly the best place between sea and sky.
Accommodation
Silversea's suites offer one of the highest space-per-guest ratios of any luxury cruise accommodations. All Silversea suites have ocean views, and most include a private teak veranda so that you can breathe in the fresh sea air simply by stepping outside your door. And regardless of the ship or suite category, all guests will be pampered with the personalised services of an attentive butler.
For a truly personal experience, customise your suite with an abundance of thoughtful options and luxurious amenities from Bulgari toiletries and personalised stationery to a bar with your favourite wines and liquors. Settle in with a complimentary movie or choose instead to simply watch the ocean swim by. You can even have dinner in-suite served course by course by your butler. Then, when it's time to retire, curl up beneath Egyptian cotton linens and a fluffy duvet, with your choice of nine different pillow types. The ultimate in luxury cruise accommodations, Silversea's suites are your home away from home.
Entertainment
The ocean views and soothing sound of the surf can be quite intoxicating at sea, so it's not surprising that daydreaming on deck is one of the most popular pastimes. However, every Silversea all inclusive cruise also includes a considerable number of more active pursuits — some for the body, some for the mind … and some just for fun.
Enrichment
Select voyages go the extra mile with enrichment programmes that will invigorate mind, body and soul, so from the tips of your taste buds to the depths of your soul, be prepared for a sensory rollercoaster of discovery while not only aboard but also ashore. Silversea's travel experience is a second to none and after 23 years in the business, travelling from pole to pole, Silversea has carefully sourced some of the world's most renowned artists, experts and guest speakers who will travel on select voyages in order to offer culturally immersive experiences from a unique perspective. These carefully curated parties and performances have been designed to engage, enlighten and enrich your voyage, so that whatever your passion, you can indulge it on board.
Shore Excursions
When participating in an organised shore excursion or bespoke tailor-made tour, Silversea's experienced Shore Concierge team are happy to assist, ensuring your shore- side experience is nothing less than a memory that lasts forever. Their knowledge and understanding of ports will truly add to your enjoyment and experience. Detailing history, local flavour, culture, regional customs, shopping tips and much more…
Mid-Voyage Adventures
Days at sea might mean plenty of R & R for some, but others might prefer to drink in all that there is to offer in the area. Our Mid-Cruise Land Adventures allow you to take full advantage of your time with us, without missing a single thing! Offering an array of adventures, these short escapades break up your sea days and allow for deeper exploration beyond the coast.
Silver Shore Concierge
Let Silversea Cruises customise a special event or excursion exclusively for you. Expert Shore Excursion professionals are available to assist with knowledgeable suggestions, personalised planning and hassle-free coordination of all private, independent touring including area highlights, flightseeing, water sports and more. In advance of your voyage, please contact Silversea via email [email protected] no later than 15 days prior to sailing. Once on board, private arrangements can be made by visiting the Silvershore® Concierge desk. Have the Silver Shore Concierge create your own tailor-made tour, or be whisked away by private car for a day — the pace and agenda are up to you.
Health & Fitness
The Fitness Centre
The Fitness Centre offers world-class equipment, classes, and personalised services.
The Fitness Centre on board this luxury cruise ship is equipped with free weights, weight machines, state-of-the-art treadmills, elliptical trainers and recumbent and upright bicycles. Classes in aerobics, yoga, Pilates and circuit training are led by the onboard fitness trainer and are always complimentary. Personal training, body composition analysis and specialty classes at the Fitness Centre are available at an additional charge.
Images are intended as a general reference. Features, materials, finishes and layout may be different than shown.
Zagara Beauty Salon
Maintain your fresh look throughout your luxury cruise at the Zagara Beauty Salon. Services are available for men and women.

A full range of salon services including hairstyling, manicures and pedicures, is available on board this luxury cruise ship for both men and women. Appointments for these chargeable services may be made on board the ship, or in advance via My Silversea. Maintain the look of prestige travel while you cruise.

Zagara Beauty Spa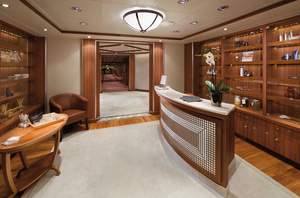 Come and indulge in a luxurious spa treatment. Facials, body wraps, massages: the spa is the perfect place to unwind.

Relax, rejuvenate and renew all your senses. The Zagara Beauty Spa by Silversea is a sanctuary of pure bliss… Sweeping sea views from the floor-to-ceiling windows, nine treatment rooms, an acupuncture suite, relaxation areas and a dedicated outdoor whirlpool allow delectable indulgence on board. Invigorating therapies including facials, body wraps and massages, plus men's and women's saunas and steam rooms are perfect for relaxing before your spa treatment or after your workout.

Pool Deck
Chaise lounges arranged in the sun or shade. Bubbling whirlpools. The pool water refreshing in warmer climates, heated for cooler weather. The attentive staff at the ready with an oversized towel as you emerge from the pool, with your favourite beverage at just the right moment. The luxury cruise ship of your dreams.
Jogging Track
A jogging track is available for guests, running the entire outside edge of the deck. 
Ship Facts
Launch year
2009
Refit year
2018
Language
en
Gross tonnage
39519
Length
211 meters
Width
27 meters
Currency
USD
Speed
20 knots
Capacity
608
Crew count
411
Deck count
8
Cabin count
270
Large cabin count
65
Wheelchair cabin count
4
Electrical plugs
types:
US 2 Pin 110v
USB
EU 2 Pin 220v
adapters provided:
false